Chainmail Curtain for High Tensile Strength Property
Chainmail curtain is a kind of popular and functional metal chain curtain in the market. Its process craft is almost the same with ring mesh curtain. Many thousands of individual rings combine together to form a huge curtain. And the flexible ring mesh curtain can be used in various ways: twisted, bent, elongated or strained, it is still intact without deformation. In a technical sense, it has high tensile strength that can withstand great tension. Chainmail curtain has been recognized by more and more customers, on one hand, its excellent properties like high tensile strength and rust resistance ensure it have longer service time than ordinary curtain, on the other hand, it has beautiful appearance with low maintenance advantage that can be used as internal and external decoration, partition curtain wall, window treatments, lamp decoration, etc.
CMC-1:
Details about every single rings of chainmail curtain.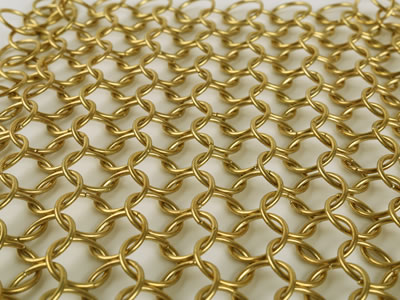 CMC-2:
Golden chainmail curtain.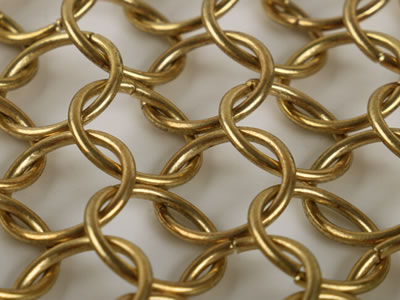 CMC-3:
Flat unfolded situation of chainmail curtain.
CMC-4:
Fish scale shape of chainmail curtain.
CMC-5:
Chainmail curtain is made from thousands of welded metal rings.
CMC-6:
Every single ring of chainmail curtain can be no welded.
Specifications:
Product name: chainmail curtain.
Material: 304/316 stainless steel, aluminum, galvanized steel or carbon steel.
Surface treatment: anodic oxidation.
Color: silver, gold, copper or natural color. Other colors are also available.
Wire diameter: 0.5 mm - 2 mm.
Ring diameter: 3 mm - 22 mm.
Interface of ring: welded or non-welded.
Weight: 5 kg/m2 - 7 kg/m2 (depending on aperture size, shape and material chosen).
Length & Height: up to you.
CMC-7:
Measuring large ring sizes of chainmail curtain.
CMC-8:
Measurements about small rings of golden chainmail curtain.
CMC-9:
Various metal ring sizes of chainmail curtain with different colors.
Features:
High tensile strength: Its metal material offers wear resistance and anti-corrosion properties.
Easy installation: flexible and stable structure, without shrinks or stretches when used.
Moisture proof: Even in humidity conditions, the curtain will be fine.
Fire prevention: The meting point of chainmail curtain is much higher than cloth curtain.
Ventilation and lighting - keep fresh air in and enhance lighting.
Low maintenance: Stains on chainmail curtain can be washed off by mild soap water.
Long lasting: With advantages of rust resistance and no fading, chainmail curtain offers a long service time.
Beautiful appearance: smooth surface and stylish design.
Applications:
Chainmail curtain can be used for decoration as well as protection. It can be used as:
Internal and external decoration.
Divider or background decoration.
Helmets decoration.
Facades.
Exhibition design.
Staircase walls.
Mechanical filtration.
Fireplace screens.
Partition curtain wall.
Garment decoration.
Sun protection.
Security areas.
Shop fitting.
Railings.
Shower curtain.
Window treatments.
As we can see, chainmail curtain has so many functions, so it can be used for many different applications:
Coffee shop.
Office buildings.
Sculptures areas.
Hotels.
Exhibitions.
Restaurants.
Home.
Theater.
Fireplace.
Shopping center.
Lamp shade.
Gloves, pillowcase.
CMC-10:
Chainmail curtain as lamp decoration create a great visual effect.
CMC-11:
Chainmail curtain can be used as gloves.
CMC-12:
Chainmail curtain can be used as room divider.
CMC-13:
Chainmail curtain as table mat.
CMC-14:
Chainmail curtain as partition curtain wall.
CMC-15:
Chainmail curtain as exterior wall cladding material.
Packaging:
Put ring mesh curtain into a sealed plastic bag, then packaged sealed plastic bags into cartons or wooden cases according to your requirements.
Packaging chainmail curtain with water proof paper or plastic film inside and outside with carton boxes or wooden cases at your requests.
Installations:
Generally speaking, chainmail curtain is installed by stainless steel curtain rod or aluminum alloy track. Aluminum alloy track contains U track and H track. Both are highly flexible curtain track system that is a good solution for chainmail curtain walls, windows treatments. And stainless steel curtain rod makes it easy to move smoothly, its perfect load bearing capacity, especially suitable for long and heavy metal curtain. For aluminum alloy track, hang the ring mesh curtain on it and use some screws to fixed the track on the wall. And for stainless steel curtain rod, just connect chainmail curtain and it with small metal bead chains, and then fixed the curtain rod on the wall.
CMC-16:
Chainmail curtain U track.
CMC-17:
Stainless steel curtain rod installation of chainmail curtain.
CMC-18:
H track of chainmail curtain.
CMC-19:
Detail about chainmail H track installation.
Inquiry for Our Product
When you contact us, please provide your detail requirements. That will help us give you a valid quotation.