Metal Curtain - Stylish and Functional Decorative Curtain
Metal curtain as a new fashion curtain has been approved by more and more curtain material manufacturers. As we all know, metallic material is a kind of most important functional material and structural material, so for a long time, metal curtain wins the favor of designers and be loved by the public for its special metal luster, good mechanical properties and processing features. At the same time, metal curtain features better performance in whatever environment where cloth curtain couldn't supply sufficient rigidity and strength. It features outstanding durability and excellent anti-rust, fire proof properties. What's more, metal curtain with various shinning colors is designed to fit for different styles of buildings, which is used as door curtain, ceiling panels, sunshades, window treatments, fireplace, wall coverings for villas, stadium, shopping center, footbridge guardrails and many other places.
What kind of metal curtain do we supply?
Metal coil curtain & Honeycomb Decoration Mesh
Metal coil curtain is similar to honeycomb decoration mesh, the difference between them is that metal coil curtain is made up of longitudinal spiral wire while honeycomb decoration mesh is woven by longitudinal and transverse spiral wires. Therefore metal coil curtain is flexible to be rolled up but honeycomb decoration mesh can not be folded or bent.
According to its unfolded characteristic, honeycomb decoration mesh is more used as facade decoration or large wall coverings. And metal coil curtain with various colors is applicable for hotel, bathroom, fireplace, dancing halls, etc.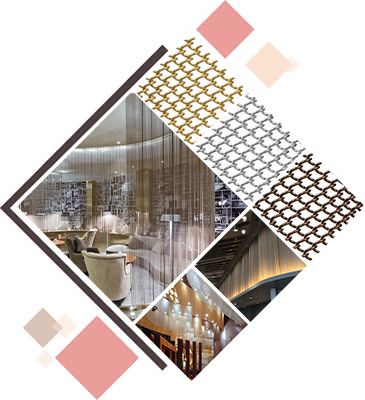 Chain link curtain & Chain curtain
Chain link curtain and chain curtain is very similar, chain link curtain is double hook design while chain curtain is just common metal chains. This kind of metal curtain is available in a widely range of colors and sizes and is ideal for dividing spaces, decorating stairs, windows, walls or more. Available as door curtains or ceiling panels and suitable for fixed or sliding applications.
Chainmail curtain & Ring mesh curtain
Another two similar metal curtains, chainmail curtain is linked by numbers of metal rings while ring mesh curtain is linked by S hook metal rings. This new decorative metal curtain features durable and flexible, an ideal metal curtain for restaurant, theater, coffee shop, office building and more
Scale mesh curtain & Special metal curtain
Scale mesh curtain is only made of aluminum or aluminum alloy material, special metal curtain utilizes a variety of raw materials like, stainless steel, aluminum, iron, copper or other metal materials. And this flexible mesh curtain has resolved the problem about heaviness of common metallic. With its fine appearance, uniform texture and smooth surface, some possible applications include dividing spaces, decorating window or doors in supermarket, showroom, banquet, salon, party and so on.
Woven wire drapery & Wire mesh belt
This durable metal mesh curtain is available in a wide variety of styles and sizes. It is more applicable for large surface of architecture coverings and creates an amazing visual impact effect. It has been used as curtain wall, ceiling, wall isolation or curtain screen in airport access station, large railway station, shopping mall and many other places.
Metal bead curtain & Wired glass
We also supply metal bead curtain and wired glass, metal bead curtain is easy install, just hang each string of metal beads into the curtain track. And the space between metal bead curtain can be adjust at your requests. Available in institution, firm, casino, discotheques, retail store, nightclub, etc.
Wired glass, safety guarantee of public or privacy buildings, is shock impact resistance and fireproof, it can effectively prevent bullets and theft. Applicable for schools, business offices, stairwells and hallways to ensure security.